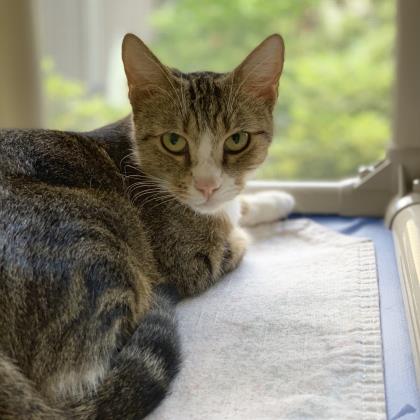 Animal Name
Alva
Species
Cat
Sex
Female
Primary Breed
American Shorthair
Age
1 year 4 month old
Primary Color
Brown
Declawed
No
Site
Humane Society Naples Main Shelter
Last Intake Date>b
2018-07-05 09:29:00
Description
*After having all my kittens adopted, I realized that it was time for me to relax and focus on finding a forever home.

*Even though I am a little shy, have patience, talk softly, put our hand out and you will see how much I want attention.

*I will put my head in your hand, even roll on my side to receive loving.

*I am a special girl who is gaining confidence each day and feeling more comfortable with your approaching me.

*So want to relax, enjoy quiet time, share affection, and you will see I have a heart of gold and I am the pot at the end of the rainbow.